Itoen, unquestionably Japan's leading maker of green tea products, will introduce an IT-based system to increase the quality of its products. The company will install special sensors in tea plantations and manage the growth of tea leaves by combining the data sent by the sensors with the images coming from an artificial satellite to know the most appropriate time to pick the tea leaves. Irradiating tea leaves around with light of a special wavelength, the sensors detect and digitalize their growing degree and tint. The images coming from the artificial satellite are used to manage the whole of a tea plantation. The special sensor is the same size as a security camera, and Itoen plans to install about 10 units in every 100 hectares.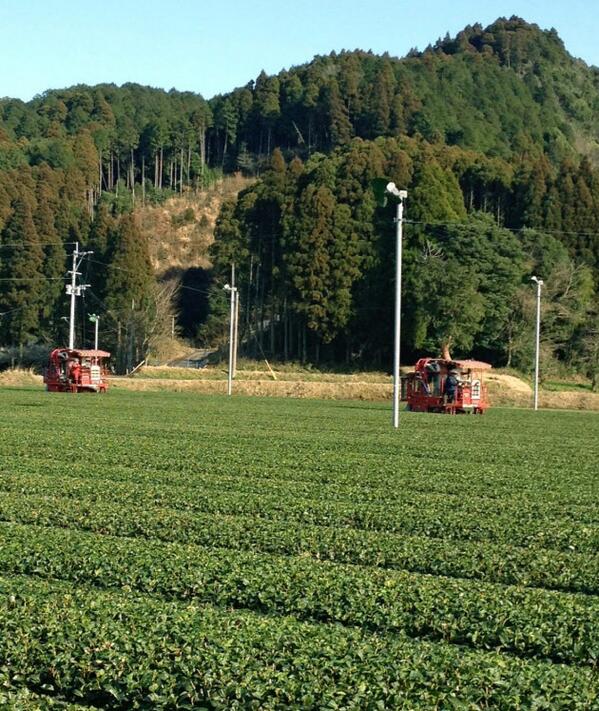 Sensors installed in a tea plantation
Itoen has been developing this system in alliance with Nagasaki University, and the system will be put it into full scale operation in 2016. It will supposedly cost 10 million yen to install equipment of this system, but the investment can be recouped in a few years. Besides increasing the quality of tea leaves, utilizing IT will increase crop yields and eliminate the necessity of seeing around tea plantations. The personnel cost will be reduced to a quarter of the current level. Itoen currently procures nearly 90% of tea leaves it demand from the market and plans to decrease the share to 60% by increasing the contracted tea plantations that introduce the IT-based system. This approach will enable Itoen to stabilize the raw material cost, strengthen the traceability, and launch tea products that use only a specific tea plantation for consumers sensitive about taste and flavor.
The Japanese government has already announced the plan to integrate abandoned fields to increase the productivity of Japan's farm products. This government drive is expected to facilitate the spread of an IT-based system in the agricultural industry.
"Ohi Ocha (Hallo green tea)" dominant in
the Japanese green tea market
The happiest moment given by a cup of green tea