Myanmar is called the last frontier in Asia. With a population of more than 600 million, it is rich in natural resources and expected to achieve substantial economic growth for years to come. The Japanese government decided to resume extending yen loan to Myanmar in April for the first time in the past 25 years, and leading general trading companies are busily occupied in drawing plans to build a bridgehead in Myanmar. China is dominant in direct investment in Myanmar. It invested $8,300 million in 2010 alone, but Japan invested only $200 million between 1990 and 2010.
Itochu started the feasibility study on developing mines of rare metals. It will start geological research in search for molybdenum for special steel and tungsten for superhard tool this month. At the same time, it will conduct feasibility study on developing offshore gas fields in alliance with several Japanese companies. Marubeni will start renovating the thermal electric power station and hydraulic power station. Mitsui and Co. started feasibility study on renovating the aging chemical fertilizer plant and exploring a business possibility of renovating the transforming station and water supply and sewerage systems in Yangon with the support of the Japanese government. It will resume the system to dispatch its employees to Myanmar for one year to study at a local university and increase the resident officer from two to four. Mitsubishi Corp. and Sumitomo Corp. will open a representative office in Naypyidaw, the capital of Myanmar.
Kubota will establish an office in Yangon to market agricultural machinery this summer, Foster Electric will start local production of its speakers, NTT Data will build a development base of software, and the convenience chain Lawson plans to open the first outlet in alliance with the local retailer coming December. Other companies are expected to follow the above companies. The sooner, the better. Victory goes to one who makes the first move.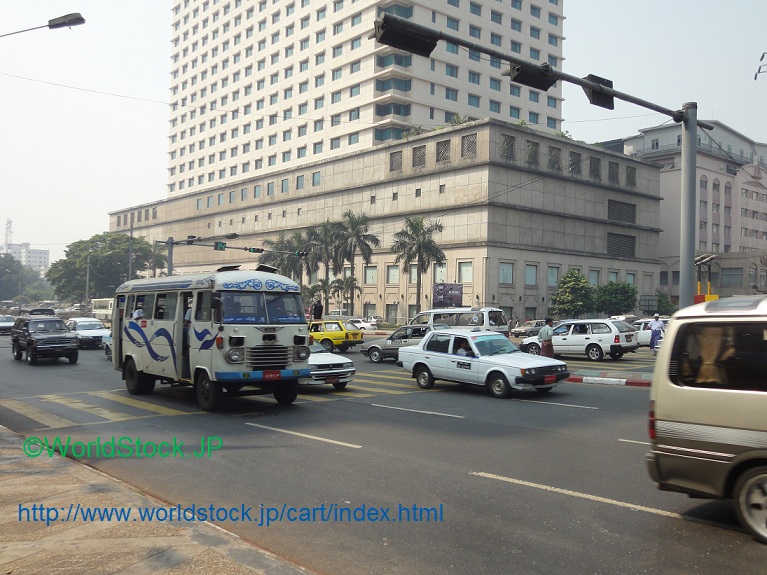 Business district of Yangon.
Myanmar is called the last frontier in Asia and expected to achieve substantial economic growth for years to come