Fujitsu Laboratories, a subsidiary of Fujitsu, developed the next-generation information equipment that allows you to operate intuitively using your fingertip. A print medium like pamphlet is put under a read-only camera. When you go over a keyword in the print medium with your finger, the equipment automatically searches relevant information on the Internet and displays it on the print medium. You can prepare materials and pamphlets of your own with only your fingertip in a short time.
Currently, a special high-resolution camera is necessary to trace the moves of fingertip precisely. Fujitsu Laboratories developed a recognition technology that can trace the moves of fingertip with the help of information on the color and shape of fingertip. Thanks t the new technology, a web camera can replace a special high-resolution camera. You can move the displayed information freely using your fingertip to realize a layout of your choice. In the initial stage, the new equipment will supposedly be in demand for preparing product descriptions and conference materials. Fujitsu Laboratories plans to put it into practical use in 2014.
Click here for further details (in Japanese).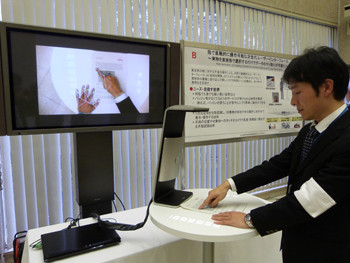 New equipment for easy preparation of
product descriptions from Fujitsu Laboratories