Japanese electronics manufacturers will commercialize the technology that assists safety driving one after another. Clarion developed a system for automatic garaging in alliance with Hitachi Automotive Systems. The system automatically detects space available for parking and operates the steering wheel automatically with the help of the in-car camera. The company has already started selling the system to automakers with a view to commercializing it in 2018.
Pioneer will launch an information communication terminal that incorporates a liquid crystal touch screen in the rearview mirror. The terminal displays maps and road information via the Internet and allows the driver to see the information without moving his visual line greatly as compared with the standard car navigation system. It has the function to collect and transmit the traveling data. Pioneer plans to provide leading automakers with data necessary for the development of automated driving.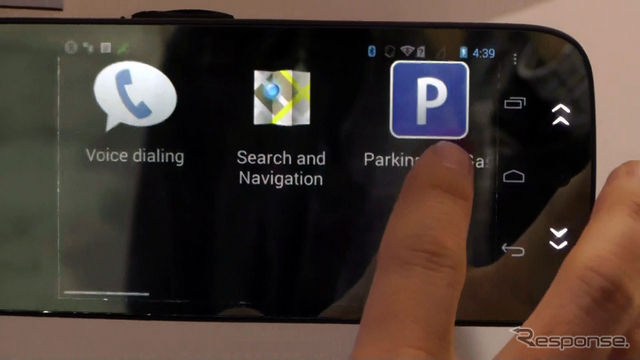 A liquid crystal display incorporated in the rear view mirror
Jcvkenwood developed a system that displays the situation of the rear on the liquid crystal screen in the driver's seat. The side mirrors are replaced by small cameras that transmit images to the liquid crystal screen. The system can improve fuel efficiency besides helping the driver detect a pedestrian even at night. The smart-car related market will supposedly grow three times as big as today to 5 trillion yen in 2018.
Please enjoy night driving on an express highway
through the screen of a Jcvkenwood navitation system