Canon developed a new CMOS sensor that can produce a clear video even by moonlight. It has three times higher sensitivity than the conventional CCD. While a camera with the conventional CCD reproduces only facial contour, one with the new CMOS sensor can reproduce the facial expression clearly even with the light created by an incense stick. The company increased the size of the picture element by more than 7.5 times of the highest grade single-lens reflex and incorporated the technology to eliminate noise from video signal, and successfully improved both sensitivity and video quality simultaneously.
The company plans to apply the new CMOS sensor to surveillance cameras and astronomical observation in a few years. Combining the new sensor with its advanced lens technology will make it possible to get a clear video from far away even at night.
The new sensor is the critical technology for Canon that plans to develop the security business using its know-how on camera business with a view to achieving sales of 100 billion yen in 4-5 years. For further details in English, please click here.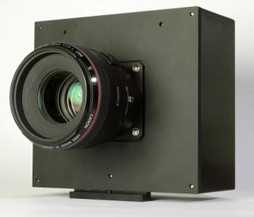 A prototype camera that incorporates
the newly developed CMOS sensor