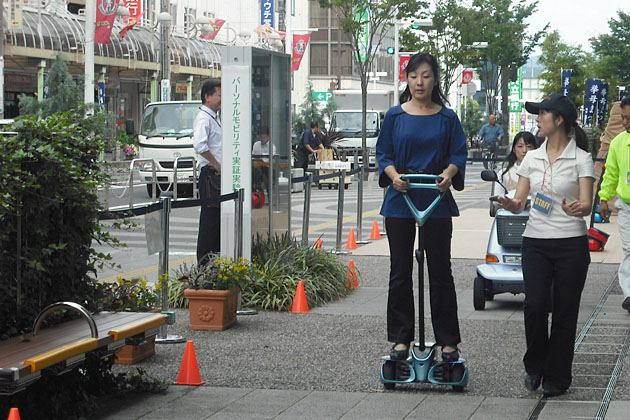 A woman traveling on the sidewalk aboard a Winglet
Toyota started the driving experiment of its Winglet in alliance with Tsukuba City, which is famous for Japan's largest base of scientific research and development, in Ibaraki Prefecture. Tsukuba City has been certified as the "Tsukuba Mobility Robot Experiment Area." The experiment will last for three years, during which users drive Winglets on the sidewalk to examine various aspects including safety.
Tsukuba Science City
Toyota's Winglet is a single seat robot like Segway, and it can travel at 6 km/h that is the speed equivalent to brisk walking speed. It can travel about 4 km per charge. The user can carry it into an elevator. A total of eight units will be leased to 80 staffs of Tsukuba City and National Institute of Advanced Industrial Scienceand Technology.
The driving experiment of Toyota's Winglet started
in Tsukuba City of Ibaranki Prefecture