Kawasaki Heavy will market a cement production plant that uses waste like urban garbage as fuel. The company developed the plant in alliance with the largest cement producer in China. Besides reducing coal consumption and carbon dioxide emissions, cement producers can increase their revenues by collecting cost of solid waste disposal from local governments. It has already started business negotiations with several domestic cement producers. Kawasaki Heavy and the Chinese company jointly developed a system to build a furnace to gasify garbage and sludge next to a burnt kiln that produces cement. The system uses gas generated by burning garbage and sludge as fuel and resultant ashes as raw materials for cement production.
In the case that a gasification furnace with a capacity to treat 300 tons of garbage per day is built next to a burnt kiln with a cement production capacity of 5,000 tons per day, the system is expected to earn revenue of 12 million yen per day. That is, revenue is expected to be 1,200 million yen should the plant receive waste 100 days per year. In addition, the plant can reduce carbon dioxide emissions by 5%. Such hazardous components as chlorine substances and sulfur oxide are eliminated before the gasification of garbage and sludge, and metals like iron are separated for recycling. Currently, only a few cement producers accept urban garbage as fuel because chloride substances it contains damage the furnace and degrade the quality of comment. The cost to introduce the system is about 2,000 million yen.
Please click here for further details.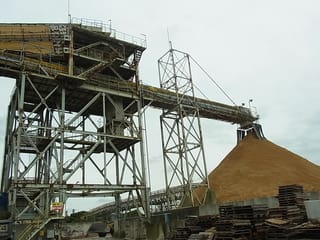 A cement production using waste as fuel