Toppan Forms developed a technology to print an electronic circuit directly on the body of a smartphone. The technology prints an electronic circuit by spraying an ink-like conductive metal. Because it can decrease the number of parts to be incorporated in a smartphone, a smartphone can be smaller and thinner. At the same time, because it allows for building an electronic circuit on an uneven area and curved area, it can be utilized to develop a wearable terminal like wrist watch and glasses. The company plans to put the technology into practical use in 2015.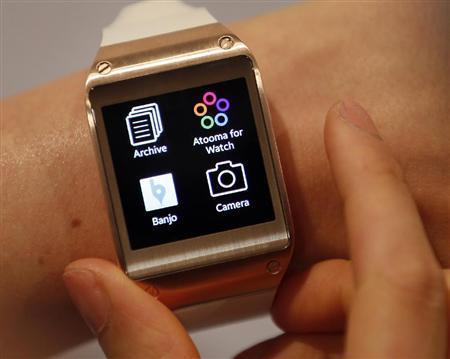 The printing technology developed by Toppan Forms will
allow a wearable terminal to be more sophisticated.
The company applied the printed wiring technology to develop this technology. The allowable temperature limit of polycarbonate resin that covers the smartphone body is 80 degrees centigrade. Toppan Forms successfully formed an electronic circuit without exceeding 80 degrees centigrade. The new technology prints antenna parts used to transmit and receive several radio waves on the smartphone body. Because a smartphone incorporates 7-8 antenna parts at present, it will decrease the number of parts and increase open area inside to increase the design freedom.