A printed image by the new techology






Toppan Printing developed a technology to record and reproduce such texture of an object as roughness and luster of the surface. The new technology shoots an object from more than 10 directions by changing the lighting direction. It analyzes the directions of incident light and reflected light of the shot images, and digitalizes the information on its texture characteristics. Viewers can know the realistic texture of an object without touching it. Toppan utilized its color management technology that precisely records and reproduces the colors used in printed matters and shot data of a digital camera.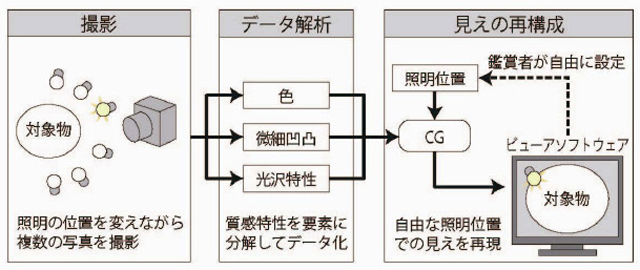 Toppan's new technology to reproduce the texture of an object
Shade and luster are clues by which human can know the texture of an object through sight. Although they vary with viewing angles and lighting directions, the existing technology shoots an object under a specific lighting and from a specific direction, making it hard to tell the texture of an object in an exhaustive way. The new technology makes it possible to view the shot images using the viewer software that allows him to change the light position by mouse freely. Toppan supports the "Close Up Crafts" exhibition to be held in the National Museum of Modern Art, Tokyo beginning on September 14 with the new technology. It
plans to apply this technology to various kinds of catalogs and electronic books.
to extract organic EL light